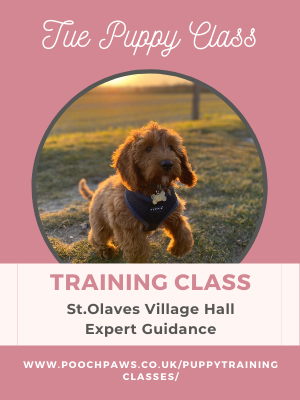 4.50pm Tue Puppy Training Class
LOCATION: Saint Olaves Village Hall. This class is INSIDE and subject to COVID PROTOCOL, you can CLICK HERE to read this.
6-week training course for puppies UNDER 6-MONTHS OLD utilising clicker training. Spaces strictly limited to 5-puppies / dogs with ONLY 1-person per puppy due to COVID restrictions.
6-week training working towards Level 1 and/or level 2 depending on your ability. Certificates and rosettes available for passing the course.
Class general information CLICK HERE
Costs, method, and more CLICK HERE
NAMES BEING TAKEN FOR WAITING LIST 
Free homework sheets
6-weeks access to the training Academy
Add your name to the waiting list HERE
COVID RESTRICTIONS –
Max of 5 students per group, only ONE handler per dog.
Social distancing applies at all times.
Only 1-person per puppy, no couples, no children.
FACE MASKS MUST BE WORN. NO MASK, NO ENTRY
Additional Term Dates – take a look at the event page for more terms