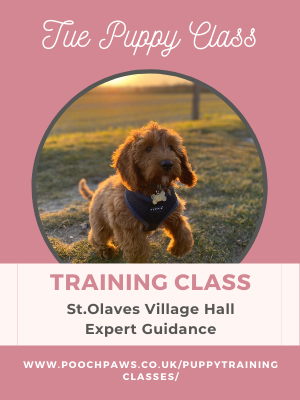 4.50pm Tue Puppy Training Class
Term SIX 2021: Starting 10th Aug at 4.50pm then the following 5-Tuesdays at the same time.
LOCATION: Saint Olaves Village Hall. This class is INSIDE and subject to COVID PROTOCOL, you can CLICK HERE to read this.
6-week training course for puppies UNDER 6-MONTHS OLD utilising clicker training. Spaces strictly limited to 5-puppies / dogs with ONLY 1-person per puppy due to COVID restrictions.
6-week training working towards Level 1 and/or level 2 depending on your ability. Certificates and rosettes available for passing the course.
CLICK HERE for more information on classes
NAMES BEING TAKEN FOR WAITING LIST 
Free homework sheets
6-weeks access to the training Academy
COVID RESTRICTIONS –
Max of 5 students per group, only ONE handler per dog.
Social distancing applies at all times.
Only 1-person per puppy, no couples, no children.
FACE MASKS MUST BE WORN. NO MASK, NO ENTRY
Trainers: Katey Aldred OR Berni Black
Additional Term Dates:
Term Six: 10th August – Taught by Berni Black
Term Seven: 28th Sept – Taught by Berni Black
Term Eight: 9th Nov