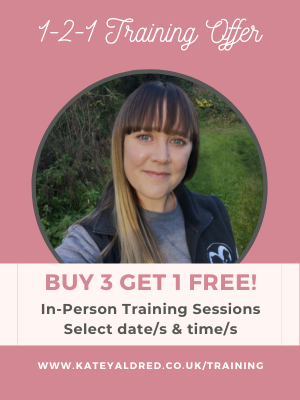 SATURDAY SPECIAL 1-2-1 Training Offer Buy 3 Get 1 Free!
BUY 3 SESSIONS ON SELECT DATE/TIME SLOTS AND GET 1 FREE!
In-Person Training 1-2-1 June Special Offer for SATURDAY sessions at 11.30am at St.Olaves village hall
DATES: June 12th, 19th, 26th & July 3rd (all at the same time slot)
Strictly limited time and offer for sessions on the specific dates. Dates and time slots are non-refundable and non-transferable.
FULL PRICE VALUE = £320
Training tailored to your needs!
Session 1 = mini-assessment to figure out your training goals and explain how to reach them. Practical training started.
Sessions, 2, 3, 4 = adding to your practical skills and/or tweaking and honing the skills you already have.