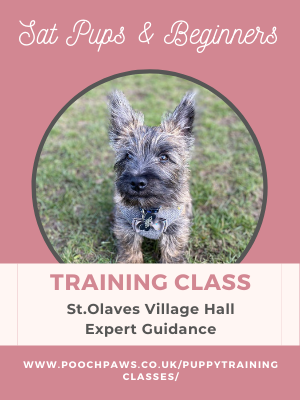 9am Sat Puppy & Beginners
Term Six: Starting 14th Aug at 9am then the following 5-Saturdays at the same time. Other term dates are listed below, to go onto the waiting list for any term please send an email.
LOCATION: Saint Olaves Village Hall.
Saint Olaves Village Hall. This class is INSIDE and subject to COVID PROTOCOL, you can CLICK HERE to read this.
6-week training course for puppies and beginner dogs utilising clicker training. Spaces strictly limited to 5-puppies / dogs with only 1-person per puppy.
Free homework sheets
6-weeks access to the training Academy with backed up written classes and a private group with resources
For puppies and beginner dogs (all dogs must be dog-to-dog friendly)
CLICK HERE for more information on classes
NAMES BEING TAKEN FOR WAITING LIST
COVID RESTRICTIONS –
Max of 5 students per group, only ONE handler per dog.
Social distancing apply at all times.
Only 1-person per dog, no couples, no children.
FACE MASKS MUST BE WORN. NO MASK, NO ENTRY
Only 1-person per dog, no couples, no children 
Additional Term Dates:
From term four it is hoped training will return to St.Olaves village hall
Term Six: 14th Aug Taught by Berni Black
Term Seven: 2nd Oct Taught by Berni Black
Term Eight: 13th Nov