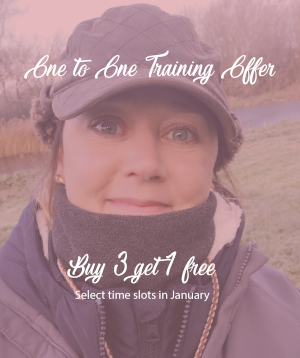 Thur 11am 1-2-1 Training Offer Buy 3 Get 1 Free!
BUY 3 SESSIONS ON SELECT JANUARY DATES AND GET 1 FREE!
In person 1-2-1 training at an outdoor location. Starts January 7th at 11am then the following 3-weeks at the same time.
Training tailored to your needs!
Session 1 = mini-assessment to figure out your training goals and explain how to reach them. Practical training started.
Sessions, 2, 3, 4 = adding to your practical skills and/or tweaking and honing the skills you already have.
PLEASE NOTE: Location is 10-minutes away from St.Olaves, you will be sent this with specific instructions upon booking.
ADVERSE WEATHER or COVID RESTRICTIONS – sessions will be via Zoom