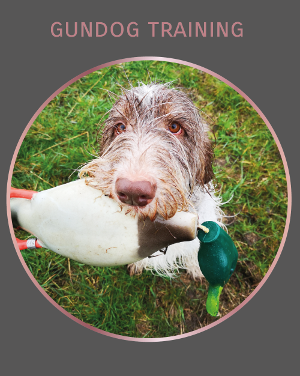 7pm Garden Gundog Training 3-week course
Starts April 30th at 7pm and repeats for the next two Thursdays at 7pm.
This is a 3-week at home short course which will be presented via Zoom meeting as an introduction to gundog training. Put some training in place whilst in lock down and prepare for when you get out and about again. Any dog is welcome, this will be a useful course for any breed especially if you struggle to get your dog back.
Topics covered will include the fundamentals of Gundog training at this introductory level such as; whistle cues, positions needed, recall techniques, steadiness, heelwork the importance of rewards, how to progress plus lots more.
The lessons will take on a presentation style for all attendees. Auditor spots are observing, participators can take part in the training during the class where this is scheduled. Participants will send video's for feedback via WhatsApp between class including up to a week after the final class.
Participant Spots: If you already have a level of training in place just get in touch to let Katey know once you have booked so she can ensure the content is tailored to the level you need.
You will need some equipment, a list is available once you book.
Ideally your dog is already clicker or marker trained to partake in this course.
Auditor spot: £30 Participant spot: £60
Places are limited for both