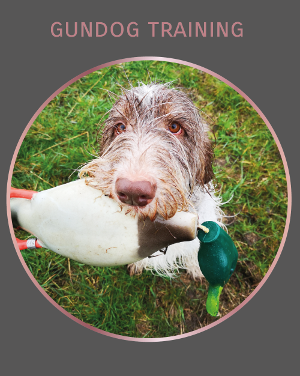 Garden Gundog Workshop
Garden Gundog Training workshop using positive training techniques. This workshop covers important fundamentals to kick off your gundog training correctly.
Have a gundog? Interested in gundog training but not sure where to start? Have a dog that isn't reliable or listen to you when you are outside?
This Garden Gundog Training workshop is for you, don't let the title fool you any breed is welcome. This will be a useful workshop for any breed especially if you struggle to get them back.
This in-person Garden Gundog Training workshop covers aspects of gundog training including but not limited to; focus and control, recall, positioning, directions, retrieving, heelwork and progression.
At each workshop different aspects will be covered and students will be pushed to their individual potential according to previous training.
Ideally you and your dog are familiar with marker / clicker training. It would be advantageous to be enrolled on the online Garden Gundog Training: Foundation course or have trained with Katey before but not compulsory.
Any dog is welcome, this will be a useful course for any breed especially if you struggle to get your dog back.
LIMITED SPACES LEFT, sessions conducted outside following social distancing rules.
If you have any questions please feel free to get in touch, you can find a map of the venue on the 'contact' page.
What is Garden Gundog Training?
Garden Gundog Training was created in the peak of the COVID-19 lock down when we were all restricted in our movements.
It is based on the idea that all training (for any sport) can begin being taught at home and in the garden.
All training needs a starting point and there is no better place to start than at home, especially for gundog training.
The name was inspired by a dear friend and colleague Cristen Brown from Ruff Diamond Dog Training during one of our many chats during the lock down period. The first course was delivered via webinar's each week and was very well received so the work was progressed.
How is it taught?
The primary method is clicker or marker training and using the power of R+ (positive reinforcement) using a variety of rewards.
Garden Gundog Training: Foundation Course sets out the initial course sets out all of the foundations needed and there are more courses planned in the future.